Custom Search
Morocco

5 Facts You Might Not Know
1
Morocco's Arabic name is 'al-Mamlakat al-Maghribiyyah', which can be translated as 'The Western Kingdom', although it is commonly known as 'Al-Maghrib', which means simply 'The West'. The English name of the country derives from the Spanish word 'Marruecos' and the Portugese word 'Marrocos', which both come from 'Morroch' in old Latin, which derived from 'Marrakech', the name of the ancient capital city of Almohad and Almoravid. This meant 'Land of God' in the Berber language. Until very recently, the country was called 'Marrakesh' in the Arabic languages of the Middle East.
2
Agriculture is vitally important to Morocco's economy. It employs nearly half of the country's workforce, making it Morocco's largest employer. The primary products are barley, wheat and other cereals; but on the plains near the Atlantic coast the most commonly grown crops are olives, grapes, citrus fruits, tomatoes, strawberries, melons and apples, watered by the system of artesian wells. Morocco is also responsible for as much as 70 percent of the hashish, the resin produced from the cannabis plant, shipped to Western Europe, where it is sold, often illegally.
3
Moroccan music is diverse and growing rapidly. Influenced by a wide range of traditions, including Andalusian, African, Arab and Amazigh, it makes use of traditional instruments including the 'nay' (flute), zither (qanun), and assorted short-neck lutes such as the gimbri and the ud. Percussion is often provided by a terracotta drum.
4
Moroccan cuisine is famed for its use of spices, although many of these have been imported to the country for thousands of years. However, saffron, mint, olives and citrus flavours are all home-grown. Famous dishes include couscous, tajine, harira, and pastilla. No visit to Morocco is complete without sampling a cup of green tea with mint.
5
Morocco will play host to the 2015 Africa Cup of Nations, Africa's largest football championship. Football is the country's most popular and most played sport, particularly popular amongst young people living in the cities. In 1986, Morocco was the first country in the Arab-African region to reach the second round of the football World Cup.
The capital of Morocco
is Rabat. The
currency of Morocco
is the Moroccan Dirham(MAD)
Flag of Morocco
Morocco is an African country
More countries starting with M
Airports in Morocco
TOURISME
,
SIDI SLIMANE
,
Rabat
,
M'rizig
,
Khouribga
,
KENITRA
,
EL KELAA 'DES SRARHNA
,
Beni Mellal
,
Agadir
,
Agadir Al Massira
,
Tan-Tan
,
Fes-Sais
,
Ifrane
,
Errachidia
,
Meknes
,
Nador
,
Oujda
,
Casablanca
,
Sidi Ifni
,
Essaouira
,
Laayoune-Hassan Isl
,
Aéroport de Casablanca - Mohamed V
,
Safi
,
Airport Marrakech
,
Airport Ouarzazate
,
Al Hoceima
,
Tetuan - Sania Ramel
, and
Tanger Aerodrome
Leaders of Morocco
List of oil fields in Morocco
(1)
Map of Morocco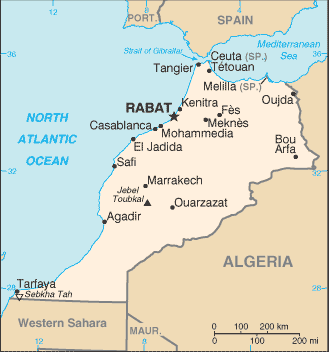 Population
33,757,175
Arabic
Animals native to Morocco / which animals live in Morocco?
Click here for all
Animals in Morocco
Airlines in Morocco
Click here for all
Airlines in Morocco
Coordinates (in Latitude & Longitude) of Morocco
32 00 N, 5 00 W
Kilometers of coastline
1,835 kilometers
Square kilometers of land
446,300 square kilometers
Square kilometers of water
250 square kilometers
Birth rate
21.64 / 1000 population
Death rate
5.54 / 1000 population
Irrigated land
14,450 sq km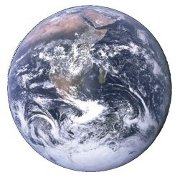 Information about Morocco is brought to you by
"List of countries of the world"
, your first stop in discovering all countries of the world.
Besides demographic information, geological information about Morocco, also the flag of Morocco and a map is displayed. View also countries of the world ordered by:
Privacy policy