There is a variety of different animals that live in Malaysia. You would be suprised to see the many habitats that exist in this country. Asian elephants, tigers,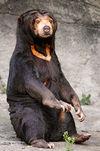 sun bears
, tapirs, and 100 different species of snakes. Malaysia is famous for it's Indochinese tiger as well as the

clouded leopard
. There are also many different types of sunbears that reside in Malaysia.
Malaysia has a total of 210 different mammal species, and and 620 species of birds. Two thirds of this country is actually covered in forests. There are 20 different sea snakes that exist in the marine life. Out of the 150 species of snakes that exist, only 16 of them are venemous. Some of those snakes include the king cobra, and the viper. People who live in Malaysia, get to see many habitats everywhere. The wild is definitely very existant in Malaysia. There are many different rain forests as well as heath forests. The marine life have actually posed a threat because of the habitat destruction that has been occuring. Animal trafficking is also a big problem in Malaysia.
There are so many sharks that exist in the Coral Triangle and are also a big part of the marine life in Malaysia. Some of these sharks include whale sharks, hammerhead sharks, and reef sharks.
Malaysia has a wide diversity of animals and many different habitats exist within the country. People who live there have adjusted to it, but they can come to a surprise for most tourists that visit.