There are a number of animals native to Mozambique including elephants, hippos, crocodiles, hyenas, lions and jackals. This country has a diverse habitat that supports a wealth of animal species both on land and in the water.
The coastal region affords travelers the unique opportunity to view the
humpback
whales when they migrate through the waters during the months of June, July, August, September and October. There are also dozens of different amphibians and fish are found living in the Mozambique waters.
One of the rarest animals native to Mozambique is the endangered
black rhinoceros
. Said to be a species on the very edge of extinction the country of Mozambique may well be your only opportunity to view one of these land dwelling creatures in the wild.
Large, powerful lions and fleet-footed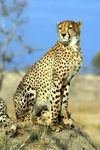 cheetahs
can be seen prowling the countryside of this African nation. Although you may want to concentrate on getting some clear photos of these beautiful mammals Mozambique is also home to the dangerous Spitting Cobra.
In addition to the coastline this African country offers coastal and eastern forests which house many of the animals native to Mozambique. There are large open plains, grasslands and many natural forests that offer a number of different habitats. The Miomba Woodlands and the Derre Forest Preserve are just two of the areas in Mozambique which hold enormous biological importance for scientists. This is due to the fact that these places house some of the world's rarest creatures and there may be some animal species living there that are yet undiscovered.