Nigeria, a country located on the western coast of Africa, is a home to a rich diversity of habitats and wildlife. It is bordered by three other African nations: Niger to the north, Cameroon to the east, Benin to the west, and is bordered by the Atlantic Ocean to the south. With 356,709 square miles of land area, the country is home to many species of birds, reptiles, fish, and mammals. Growing population and hunting of some animals for food has reduced some populations to levels of vulnerability or outright endangerment.
Four main types of habitats exist within Nigeria's borders: savanna grasslands, tropical forests, mountain plateaus, and mangrove swamps. The savanna grasslands are populated by herbivorous (plant eating) species, such as elephants and warthogs, as well as carnivorous (meat eating) animals like chivets, jackals, and wild dogs. Big cats such as lions,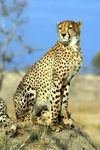 cheetahs
, and leopards also prowl these areas. Where rivers run through the grasslands, hippopotamuses and crocodiles are common.
The mangrove swamps and tropical forests are home to many reptiles, some of which are unique to Nigeria. The worm lizard and the aptly named Nigerian crag gecko are among the reptilian species unique to the area, as well as several species of killfish in the waters of the country. A few unique species of bird also exist, such as the Jos Plateau Indigobird and the
rock firefinch
.
Two national parks located in the country serve as wildlife preserves, offering a safe habitat for the many vulnerable and endangered species. The parks are Kainji Lake National park, near Lagos and the border with Benin, and Yankari National Park, in Bauchi State in the northeastern section of the country. Endangered species include the
chimpanzee
, the drill, the western
gorilla
, the red-bellied monkey, and the

savanna swamp shrew
.