The country of Somalia is located in the tropical zone. The Northeastern and Central parts of this country are arid, or very dry. The Southern and Northwestern regions are semi-arid, receiving slightly more rainfall than the Central and Northeastern regions. This country has a long, eastern coastline that borders the Indian Ocean. The Coastal region is more humid due to its proximity to the ocean. Somalia is bordered by three countries: Djibouti to the North, Kenya to the South, and Ethiopia bordering its Central territory.
Somalia is home to a large number of birds, over 700 species, and boasts over 170 species of mammals. It's also home to a variety of marine life. The endangered

dugong
, also known as the 'sea-cow', is among the aquatic fauna found living along the eastern coastline. The dugong is a shy, placid, herbivore that forages for sea-grass. Other common marine animals include manta rays,

great hammerhead sharks
, black marlin, and shortfin mako sharks.
The

Nile crocodile
is very common in southern Somalia. It's the largest crocodilian found in Africa. Adult males can grow to between 11 and 16 feet, or 3 to 5 meters, long. Elephants are also found here. Since elephants are migratory, they are found in a variety of habitats, such as woodland, savanna, and tropical forests. Other large animals found in Somalia are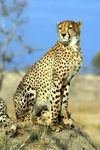 cheetahs
, ostriches, lions, baboons,
giraffes
, and several species of antelope.
The yellow-spotted
rock hyrax
, which is found in savanna and rocky areas, looks much like a large rodent, but is actually related to elephants. The savanna-dwelling Somali golden mole, and the shrub-land and desert-dwelling
Somali elephant shrew
, are found only in Somalia.
Somalia is home to a diverse variety of flora and fauna, from acacia trees, to birds, primates, large cats, and reptiles large and small.