In Syria, there are a wide array of animals, ranging from rhinos to wildlife such as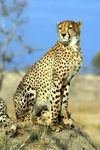 cheetahs
, and giraffees, elephants, and these animals which live in sub tropic, to warmer climates. The climate in syria, and the more wild and wilderness style habitat, suits these animals, more so than other regions of the world. The climate is pretty warm year round, and the Medeteranian climates bode well with these creatures.
Visitors to Syria can expect animals from: sheep, to exotic spiders, camels, antelope, gazelle, deer, rabbits and hare, falcons, eagles, and a variety of lizards, typically larger ones. The desert type region, and hotter climates, and the terrain which is found in the country, suit these animals much more so, than does that in the US, or other regions around the world.
There are also more subtle terrain, such as the mountanous regions and the landscaped flat terrain, which suits animals like gazelle, deer, and antelope. There are also several rivers (namely the Euphrates river), several poppy fields, and a more mild climate in certain regions, but the animals which you will find in this Asian country, are more so found in the desert regions, and are those which are more suited for warmer climates.
One of the more prominent and extinguished animals is the gazelle, which can survive in both warmer climates like the desert regions in syria, as well as the landscape and mountain regions, which tend to offer a cooler climate. These animals, along with deer and antelope, fit right into the country in any region, as they can handle more extreme climates, yet are still capable of handling the cooler and more subtle climate zones of the country as well.
Although there are a variety of animals and species in syria, visitors of the area, can expect to find them mainly in the desert regions of the country, and those animals which are typically suited for the warmer climate and temperate zones.