Custom Search
Uruguay

Uruguay is a Spanish-speaking country in the southern-most region of South America, and home to 3,5 million people. A nation steeped in history and a distinct past, Uruguay's home to an exciting, though frequently less talked about, cultural experience.
5 Facts You Might Not Know
1
Despite appearing unequivocally land locked on three sides, Uruguay is actually surrounded by water. It faces the Rio Grande do Sul of Brazil on its northern border, the Uruguay River on its western border, the estuary of the Rio de la Plata on its southwestern border and the Atlantic Ocean to the southeast.
2
Uruguay, whose official name is The Oriental Republic of Uruguay, was rated ninth by Reader's Digest in terms of the most livable and greenest countries in the world, and first overall in the Americas, beating out even the United States.
3
Montevideo, Uruguay's largest and capital city, is an exciting and wholly cosmopolitan city and flaunts architecture reminiscent of its European roots. Art Deco, Neoclassical, towering skyscrapers and old European architecture can be found all around.
4
Tourism is big business in Uruguay. Each year, visitors flock to Sol's Theatre and the Palacio Salvo, Plaza Independencia and public squares, the Gaucho Museum, and the Palacio Municipal. They also visit for festivals of Montevideo, like Montevideo Carnaval, the country's variation of the famous street party, and a popular Gaucho festival. Tourists also visit for the asado, a variation on barbecued beef that doubles as a cultural mainstay.
5
Beaches are the other claim to fame the country of Uruguay can boast about. With pleasant year around temperatures, visitors flock to beautiful beaches in Motevideo, including Fortaleza del Cerro, the Rambla , Punta Gorda, Barrio Sur and Palermo.
The capital of Uruguay
is Montevideo. The
currency of Uruguay
is the Peso Uruguayo(UYU) and the
Uruguay Peso en Unidades Indexadas
(UYI).
Flag of Uruguay
Uruguay belongs to the
South American continent
More countries starting with U
Airports in Uruguay
Aeropuerto Nueva Hesperides
,
Aeropuerto El Jaguel
,
Aeropuerto Internacional Cerro Chapeu
,
Aeropuerto Internacional de Carrasco
,
Aeródromo Capitán Boiso Lanza
,
Aeropuerto Arco
,
Aeródromo Ángel S. Adami
,
Aeropuerto Internacional de Alternativa de Santa Bernardina
,
Melilla
,
Artigas
,
Durazno
,
Capitan Corbeta
,
Melo
,
Maldonado - Punta Est
,
Paysandu
,
Tacuarembo
, and
Treinta Y Tres
Leaders of Uruguay
Map of Uruguay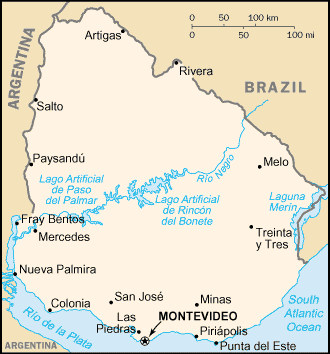 Population
3,460,607
Spanish
Animals native to Uruguay / which animals live in Uruguay?
Click here for all
Animals in Uruguay
Airlines in Uruguay
Click here for all
Airlines in Uruguay
Coordinates (in Latitude & Longitude) of Uruguay
33 00 S, 56 00 W
Kilometers of coastline
660 kilometers
Square kilometers of land
173,620 square kilometers
Square kilometers of water
2,600 square kilometers
Birth rate
14.41 / 1000 population
Death rate
9.16 / 1000 population
Irrigated land
2,100 sq km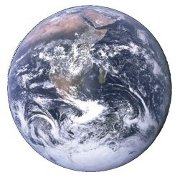 Information about Uruguay is brought to you by
"List of countries of the world"
, your first stop in discovering all countries of the world.
Besides demographic information, geological information about Uruguay, also the flag of Uruguay and a map is displayed. View also countries of the world ordered by:
Privacy policy