Custom Search
Samoa

Samoa is a small group of seven islands in the South Pacific around 1,800 miles to the north of New Zealand. The main two islands of Samoa are called Upolu and Saval'i and the capital city of Apia is located on Upolu. Known as the Independent State of Samoa, it is renowned for its natural beauty and inviting people making it a Pacific Island paradise.
5 Facts You Might Not Know
1
Tongan Polynesians were the first inhabitants of Samoa, but European explorers changed the people of the islands drastically, converting them to Christianity. After WWI New Zealand became trustees of Samoa at the request of the UN. This remained the case until the islands regained independence on January 1, 1962.
2
The political system of Samoa is based on the English Parliament as are many countries within the British Commonwealth. Democratic elections are held every five years to choose a ruling party and Prime Minister. The Prime Minister chooses a 12-person cabinet from the other elected representatives. The ruling party in Samoa for the past 28 years is the Human Rights Protection Party.
3
The local population of Samoa consists mainly of indigenous Samoans who make up around 92,6% of the populace. Its capital city of Apia is the country's center of politics and trade as well as being its main port. The main economic industries in Samoa are agriculture, lumber and tourism. Agricultural crops from the country include coconuts, yams, bananas and taro. Samoa also has its own currency, the Tala.
4
Samoa does not have its own military although it does have a police force for internal security matters. If threatened by war the islands would receive assistance and defense from the former caretakers of Samoa, New Zealand. Under the 1962 Treaty of Friendship between the countries, New Zealand is obliged to consider any request for military help from Samoa.
5
The main islands of Samoa are volcanic in origin with much of the land being heavily covered with forest. The two islands are also surrounded by attractive coral reefs.
The capital of Samoa
is Apia. The
currency of Samoa
is the Tala(WST)
Flag of Samoa
Samoa belongs to the
Oceanian continent
More countries starting with S
Airports in Samoa
Faleolo Intl - Apia



Leaders of Samoa
Map of Samoa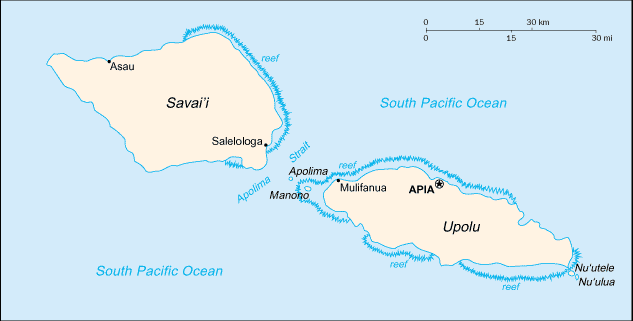 Population
214,265
English
,
Samoan
Animals native to Samoa / which animals live in Samoa?
Click here for all
Animals in Samoa
Airlines in Samoa
Click here for all
Airlines in Samoa
Coordinates (in Latitude & Longitude) of Samoa
13 35 S, 172 20 W
Kilometers of coastline
403 kilometers
Square kilometers of land
2,934 square kilometers
Square kilometers of water
10 square kilometers
Birth rate
28.28 / 1000 population
Death rate
5.88 / 1000 population
Irrigated land
NA sq km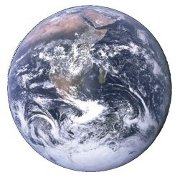 Information about Samoa is brought to you by
"List of countries of the world"
, your first stop in discovering all countries of the world.
Besides demographic information, geological information about Samoa, also the flag of Samoa and a map is displayed. View also countries of the world ordered by:
Privacy policy